The Top 10 Baseball Stadiums
10. The Ballpark in Arlington -- Texas Rangers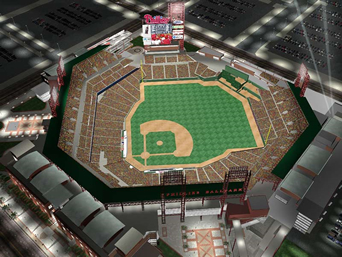 Perhaps one of the most fan-friendly ballparks, The Ballpark in Arlington serves as home to baseball's highestpaid player, shortstop Alex Rodriguez. A longtime fan favorite, the Ballpark was designed to offer Rangers' fans everything that Arlington Stadium did not. Admittedly, riding up on Nolan Ryan Expressway adds to the cache. Time will tell whether this Stadium will be the home of a championship team -- the team owner sure hopes so after plunking down $252 million for the former Seattle shortstop. But even if the team falls short, a great time is assured at the Ballpark.
9. SkyDome -- Toronto Blue Jays
Admittedly, most baseball purists do not hold any sweet affection for SkyDome. After all, the Jays were the first non-American team to win the World Series, and SkyDome played host to the only time that the World Series was played (and won) on non-American soil. In terms of history, it deserves to be up there with Joe Carter's bottom of the 9th home run to win the World Series for the Toronto Blue Jays in 1993 off the Phillies' Mitch Williams. Since its opening in 1989, many stadiums have been built with more advanced features, but when SkyDome opened, it was an engineering wonder with its retractable roof that takes 15 minutes to open, the world's largest Jumbotron, a 600-room hotel, as well as a variety of restaurants that overlook the diamond.
8. Jacobs Field -- Cleveland Indians
If there ever was a case of a stadium turning a city and franchise around, then Cleveland's Jacobs Field would be it. Following the 1993 season (and a barrage of Major League movies), the Indians said so long to Municipal Stadium and graciously embraced Jacobs Field. Considering it's one of the nicest and most beautiful ballparks around, Jacobs Field has turned the city around, and the team has gone from laughing stock to perennial pennant favorite. Jacobs Field may lack some of the great historical milestones of older parks, but with its scenic setting and cozy feel, fans will continue to flock the "Jake" -- ensuring a legacy of winning teams and all-star plays. There is no one single event that even comes close to the general importance that this Stadium has had on Baseball, Cleveland, the Indians, and of course, Drew Carey's career.
7. Coors Field -- Colorado Rockies
If Dodger stadium is considered a pitcher's park, then Coors Field is the batter's, um, slugger's park. Coors Field in Denver makes starting pitchers wish they had not signed that contract, gives relievers heartburn, yet allows batters to shine. Larry Walker was great in Montreal but he is now industrious. Todd Helton had potential but now he's awesome.
6. Oriole Park at Camden Yards -- Baltimore Orioles
If any one ballpark set the craze for the retro look and feel, it is undoubtedly Oriole Park at Camden Yards. Interestingly, the Camden Yards' outfield was built on an area where a saloon was once operated by Babe Ruth's father. The Bambino himself was born just a few blocks away. Not to take anything away from the Babe, but you can imagine that Camden Yards is not synonymous with the Bambino, but rather, the man they call Cal. Cal Ripken Jr. bleeds Oriole Orange. Baseball's Iron Man broke Lou Gehrig's record of 2,130 consecutive games right here before a capacity Baltimore crowd on September 6, 1995, marking one of the most virtuous chases in all of professional sports. Sadly, the Orioles have had some disappointing seasons, but with a ballpark as beautiful as Camden Yards, the show never disappoints.
5. Dodger Stadium -- Los Angeles Dodgers
Following in the footsteps on Ebbets Field would not be easy after all. But Walter O'Malley fell in love with the empty 300-acre lot at Chavez Ravine when he and a county supervisor took a helicopter ride over Los Angeles to look for potential stadium sites. A mere glimpse at the neighboring freeways and overlooking downtown skyline prompted O'Malley to ask if he could "have that one." The rest is history. Dodger Stadium, a.k.a. Chavez Ravine, is a classic pitcher's park and a witness of Orel Leonard Hershiser IV tossing an amazing 59 consecutive scoreless innings, climaxing with the 1988 World Series Championship with Kirk Gibson's pinch-hit home run and his "wobble" around the bases.
4. Busch Stadium -- St. Louis Cardinals
Mark McGwire is giving the Anheuser Busch family some competition. While many associate the St. Louis stadium with the famous brewing family, Busch Stadium now stands for something more baseball related: the House where Ruth and Maris' Records fell. We do not care about any asterix, all we care about is the memorable 1998 season where he and Slammin' Sammy Sosa gave us all a reason to get excited about baseball again. Allow me to refresh your memory; after many wannabes tried to hit 62 home runs, Sammy and Mark gave us a battle of titans until the end. In the final series of the season, Sosa took the lead, igniting a ferocious outburst by Big Mac. In the third inning, he belted number 69 off the Montreal Expos' Mike Thurman. In the 7th and last at-bat of 1998, McGwire lined a ball off Carl Pavano into the luxury box in left. When the dust settled, Sammy eclipsed the Babe and Maris, but Big Mac finally topped Sammy. Perhaps the greatest two-way home run battle ever.
3. Fenway Park -- Boston Red Sox
The Green Monster. Five moments stand out: April 16th, 1945, the Sox grant a tryout to 3 Negro League players (shortstop Jackie Robinson, outfielder Sam Jethroe, and second baseman Marvin Williams) but do not sign. Nonetheless, a step in the right direction. Rookie Billy Rohr carries a no-hitter into the 9th inning in his first major-league start against perennial enemy Yanks on April 14, 1967. Leftfielder Carl Yastrzemski makes a mind-boggling grab to get Tom Tresh out. With 2 outs, Elston Howard drives a single to right. The Sox's Impossible Dream season continues. That year, Carl Yastrzemski captures the Triple Crown, hitting .326 with 44 home runs and 121 RBI. Skipper Dick Williams calls it, "the greatest season I've ever seen by one player." Game 6 of the 1975 World Series: in one of the greatest baseball games ever played, the Sox outlast the Cincinnati Reds 7-6, courtesy of Carlton Fisk's 12th-inning dinger. Game highlights include Bernie Carbo's pinch-hit, three-run, game-tying home run in the 8th inning; George Foster throwing out the Red Sox's Denny Doyle at the plate in the 9th; as well as Dwight Evans' grab to rob Joe Morgan of a home run in the 11th. Today, with the curse still looming, Sox fans are blessed with the best and most dominating hurler in the Majors: Pedro Martinez.
2. Wrigley Field -- Chicago Cubs
Even my brother who hates baseball has caught a ballgame at the "Friendly Confines". Chicago's Wrigley Field is perhaps the nicest ballpark in the Majors. Whenever teams contemplate designing and building a new ballpark, Wrigley Field serves as a blueprint in one way or another -- and with reason. In a day and age where ballparks are cramming every corporate logo to resemble Formula One cars, Wrigley Field stands out amid the clutter.
1. Yankee Stadium -- New York Yankees
Babe Ruth, Lou Gehrig, Mickey Mantle, Joe Dimaggio, Roger Maris, Reggie Jackson, Dave Winfield, Paul O'Neil, Bernie Williams, Derek Jeter... and we haven't even mentioned any pitchers yet (the Babe notwithstanding). What the Montreal Forum was to hockey, Lambeau Field is to football, and the Boston Garden was to the NBA, The House that Ruth Built is the field of dreams for millions of youngsters from Miami to Anchorage, San Diego to Boston... well, maybe not. Unlike the Celtics, Canadiens and Packers, the Yankees are at the top of their game, with 26 championships -- more than the Canadiens' 24 Stanley Cups. While some stadiums may be nicer than Yankee stadium, none come close to it in terms of baseball legacy and history. Every kid's dream is to play at Yankee Stadium; only some realize this dream, and perhaps it is for this reason that the boys in pinstripes always show up to play.